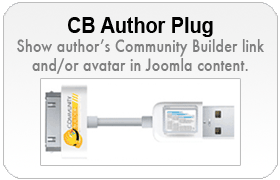 TKServer.com's CB Author Plug is a Joomla! plugin which places a link to the author's Community Builder (CB) profile in Joomla! content items as well as optionally displaying the author's CB avatar. This plugin is similar to the old Joomla! 1.0 CB Author Bot, but with many more features and Joomla! 1.5.x, 1.6.x, 1.7.x, 2.5.x, 3.x native.
Note: As of version 3.0 this plugin has converted to commercial status.  A very small price has been added to support future development of this and other Joomla extensions.
Features
Show author's link to CB profile within Joomla! content items
Show author's CB avatar
Avatar size controlled in plugin parameters
Avatar float controls, left or right
Intro text places text before CB link
Outro text places text after CB link
Font size controlled in plugin parameters
Font colors (standard and link) controlled in plugin parameters
Tested and confirmed compatible with Joomla 3.36 and Community Builder 2.0 – 01/18/15
New Version 3.0.0 December 2013
Converted plugin for Joomla 3.0 compatibility.  Code cleanup and fixes.  Added color picker to plugin parameters for CSS text color customization.
New Version 1.6.1 October 2012
J1.6-1.7-2.5 compatibility
Fixed missing avatar issue certain browsers
Fixed back end media manager conflict
New Version 1.5, February 2012
New show/hide in category view option
New show/hide in section view option
New show/hide in blog layout option
Fixed broken image issue in IE and Chrome
Removed problematic "Replace JAuthor" function
FINAL 1.5 version, barring major security or bug issues
New Version 1.6! September 2011
Joomla 1.6 and 1.7 compatibility
Minor tweaks and bug fixes
New Version 1.2 fixes, September 2011
Fixed display spacing issue on CB link
Removed hidden mac osx files from zip archive
Likely the final 1.5 revision
New Version 1.2 features, November 2010
Exclude specific Joomla authors
Exclude specific Joomla article categories
Exclude specific Joomla article sections
New version 1.1 features, July 2010
Display CB Author Plug before or after Joomla content
Automatically disable Joomla author display and follow individual article author show/hide settings.
Enable or disable CB Author Plug for front page articles.
Sample Display

Plugin Parameters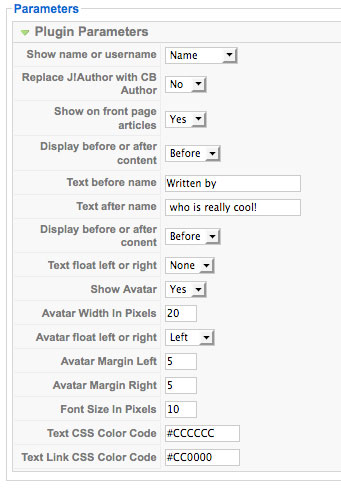 CB Author Plug Support Forum
For support visit the TKServer Support Forum!